Our website hosting company is experiencing technical issues so our main website is currently offline.
Registering For An Account
To Register for a free account by clicking here
When you ship packages to our warehouse you have two options:
Option 1 - Per package plan – $5.95 USD per package
Option 2 - Annual discount plan – Pay $108 USD and receive unlimited packages for only $1.80 per package for 12 months.
If you plan to receive more than 26 packages per year Option #2 is the better value!
Both plans include 180 days of free storage. We will hold your package for as long as you would like beyond the 180 days of free storage. However, a $0.15 + Tax per day, per package charge will apply and you will need to pay for your storage fees on a monthly basis using a Credit Card or PayPal account through our automated tracking system.
Please Note: Failure to pay your storage fees by the 15th of the month will result in your package being liquidated as we see fit and you will not be entitled to compensation.
Additional Fees
If your package weighs more than 70 pounds or is over 84 inches (Length + Girth) the following fees apply:
Packages Weighing 70 pounds or over 84 inches = $5.50 USD additional charge
Packages Weighing 90 pounds or 108 inches = $11.00 USD additional charge
Freight Deliveries (EXTRA LARGE PKGS. NOT ON SKIDS BUT DELIVERED BY FREIGHT) = $20.00 USD Additional per package PLUS $2.00+tax storage fee per night.
Standard Vehicle Tires $6.00 USD Additional Charge
Shipping Packages to CBI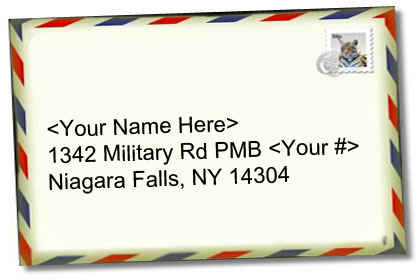 Picking Up Your Packages
Our customer lobby is currently closed due to COVID-19.

However, if you would like to pickup your packages or have someone else pick up your packages. Please email us at least 24 hours in advance at info@cbiusa.com with a subject of 'Package Pickup Request'

Be sure to include:

- Your name

- The name of the person picking up your packages

- Your PMB number

- Your cell phone number

- List of the packages you would like to pickup (view them on our tracking page)

Once you respond to your email and confirm we have your packages ready please come to the side door of the warehouse to pick up your packages
Warehouse Hours of Operation
We are open Monday - Friday 10AM - 2PM
Tracking Page / Paying For Your Storage Fees
To access our tracking page to view your packages or pay your storage fee's please click here.
Having Your Packages Shipped To You In Canada
We are NOT currently accepting new request to ship packages to Canada as we are still working through our current backlog
Questions About Paying Your Storage Fees
If you have questions about paying your storage fees please review our Storage Fee Frequently Asked Questions (FAQ) by clicking here.
Other Questions or Concerns
Please email at info@cbiusa.com However, please be aware that due to limited staff please it may take a few days to receive a response.